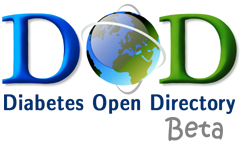 Risk of Diabetes
Sub-Areas to Risk of Diabetes:
Embryonic Death (0)
Diabetic Embryopathy/Fetal Growth Pertubations (2)

(Journal Article): Shoulder dystocia--risk factors and fetal outcome

[No indication of authors]

IN: Akush Ginekol (Sofiia) 2004; 43(4):3-9
ABSTRACT: The purpose of this retrospective study is to evaluate the perinatal outcome in cases with birth injuries, suggesting shoulder dystocia. This survey involves 92 cases of live newbo... Click HERE for details
(Journal Article): Long-term postoperative mortality in diabetic patients undergoing major non-cardiac surgery

Juul AB, Wetterslev J, Kofoed-Enevoldsen A

IN: Eur J Anaesthesiol 2004; 21(7):523-529
Impact Factor(s) of Eur J Anaesthesiol: 1.156 (2004), 1.217 (2003), 1.193 (2002), 0.966 (2001)
ABSTRACT: BACKGROUND AND OBJECTIVE: The prognosis of diabetic patients after surgery remains controversial. Some suggest that the rates of death and complications today are almost identical ... Click HERE for details
(Journal Article): Raising a baby with diabetes

Roemer JB

IN: Diabetes Forecast 2003; 56(11):64-68
ABSTRACT: Not available. Click HERE for details
(Journal Article): Polymorphisms of Interleukin-1beta and beta3-Adrenergic Receptor in Japanese Patients With Nonalcoholic Steatohepatitis

Nozaki Y, Saibara T, Nemoto Y, Ono M, Akisawa N, Iwasaki S, Hayashi Y, Hiroi M, Enzan H, Onishi S

IN: Alcohol Clin Exp Res 2004; 28(8):106S-110S
Impact Factor(s) of Alcohol Clin Exp Res: 2.508 (2004), 2.421 (2003), 2.674 (2001)
ABSTRACT: BACKGROUND:: Obesity, hypertriglyceridemia, and diabetes have been reported as frequent complications observed in patients with nonalcoholic steatohepatitis (NASH) in Western count... Click HERE for details
---
Contribute to this subject area!