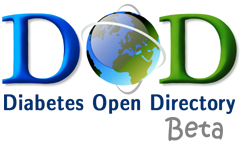 Re-establishing Tolerance
Sub-Areas to Re-establishing Tolerance:
Modifying Immunity (4)
Induction of Natural Immunity (0)

(Journal Article): Autoimmune Diabetes: Ongoing Development of Immunological Intervention Strategies Targeted Directly Against Autoreactive T Cells

Sia C

IN: Rev Diabetic Stud 2004; 1(1):9-17
Impact Factor(s) of Rev Diabetic Stud: 0.125 (2006)
ABSTRACT: It is well known that autoimmunity associated with the onset of insulin-dependent diabetes mellitus (IDDM) involves the generation of autoreactive T and B cells. The findings that ... Click HERE for details
(Journal Article): Presence of diabetes-inhibiting, glutamic acid decarboxylase-specific, IL-10-dependent, regulatory T cells in naive nonobese diabetic mice.

You S, Chen C, Lee WH, Brusko T, Atkinson M, Liu CP

IN: J Immunol 2004; 173:6777-6785
Impact Factor(s) of J Immunol: 6.486 (2004), 6.702 (2003), 7.065 (2001)
ABSTRACT: Immunization of NOD mice with autoantigens such as glutamic acid decarboxylase (GAD) 221-235 peptide (p221) can induce Ag-specific CD4(+) T regulatory (Tr) cells. However, it is un... Click HERE for details
---
Contribute to this subject area!