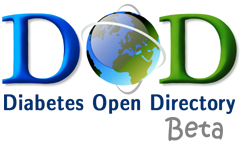 Diabetes Pathogenesis
Sub-Areas to Diabetes Pathogenesis:
T1DM (0)
T2DM (2)
MODY (1)
Genetics (1)
Epidemiology (2)

(Journal Article): Regulation of transferrin receptor 2 by transferrin: diferric transferrin regulates transferrin receptor 2 protein stability

Johnson MB, Enns CA

IN: Blood 2004; Epub(19)
Impact Factor(s) of Blood: 9.782 (2004), 10.12 (2003), 9.631 (2002), 9.273 (2001)
ABSTRACT: Transferrin receptor 2 (TfR2) is a type-II transmembrane protein expressed in hepatocytes that binds iron-bound transferrin (Tf). Mutations in TfR2 cause one form of hereditary hem... Click HERE for details
(Journal Article): Functional, molecular, and biochemical characterization of streptozotocin-induced diabetes.

Ward DT, Yau SK, Mee AP, Mawer EB, Miller CA, Garland HO, Riccardi D

IN: J Am Soc Nephrol 2001; 12:779-790
Impact Factor(s) of J Am Soc Nephrol: 6.644 (2004), 7.499 (2003), 6.337 (2001)
ABSTRACT: Altered divalent cation homeostasis with bone mineral loss, hypercalciuria, and hypomagnesemia have been associated consistently with human diabetes mellitus. This study investigat... Click HERE for details
---
Contribute to this subject area!